20th Century Music, Composers and Performers
From 1922 to 1940  Samuel  championed modern composers and their music . The Kutcher String Quartet gave first performances of works of  English composers, introduced new works from abroad  never played before in the UK, tried out new formats of performances  and maintained in their repertoire of over 200 works many belonging to composers of the 20th century.
1924    Joseph Charles Holbrooke (1878 –1958)
1924   May 11th   First performance of  Arnold Bax's Oboe Quintet  for oboe and string quartet.
Hyde Park Hotel  (Mrs. Adele Maddison Chamber Concert) , Leon Goosen (oboe) and the Kutcher String Quartet.
1925 – Feb – Second public performance of Robert Chignell's  pianoforte Quintet in B minor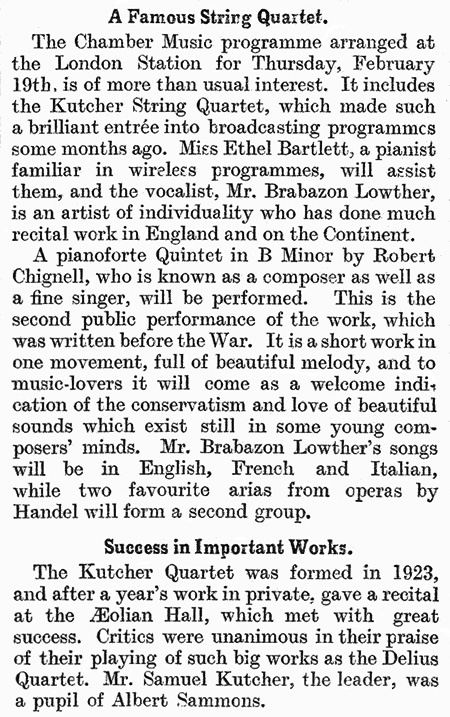 1925 – Bernard Hélène Joseph van Dieren – Dutch composer
| | |
| --- | --- |
| September 1925 – Radio performance of van Dieren's music by the Kutcher String Quartet. Daily Mail |  A three hour concert of van Dieren's music at the Wigmore Hall, London – Daily Mail 15th December |
1925 October. The first appearance in the U.K  of the  Viennese dancer  Fraulein Kieslhausen,  accompanied by the Kutcher Quartet .
1926 – Mr. Herman Sandby – Danish composer – recital of his  arrangements  in collaboration with Samuel  Kutcher, members of the Kutcher Quartet and others  –   Daily Telegraph 9.11.26
 1926– January 12th – Joseph Holbrooke –  First performance of the Oriental Sonata for piano and violin, written for Samuel Kutcher  which unfortunately didn't happen because some of the music had got lost in the post.
Aberdeen Newspaper 12 Jan 1926
 1926 Ernő Dohnányi,  Hungarian Composer (1877 –1960) and Alfredo Casella, Italian Composer ( (1883 – 1947)
Daily Telegraph October 23rd 1926
Musical Times December 1st 1926

 Alfredo Casella

Ernő Dohnányi

 
1927 – Christian  Darnton  –  1st April 1927 String Quartet, op. 23 premiere by the Kutcher Quartet
1932 Contemporary Russian  composers –  Vassilenko, Karagitchev, Litinsky
1932 November – Daily Telegraph

Letter to Samuel from the London Contemporary Music Centre
1932 – Bliss Clarinet Quintet – 19th December – first performance at Bliss's  home
1933 – Bliss Clarinet Quintet  –  February 17th –  first public  performance  with Frederick Thurston
| | |
| --- | --- |
|  Evening Standard February 18th  |  Morning Post February 18th |
1934  Dame Ethel Smyth – January Concert in her home town of Woking, Surrey
| | |
| --- | --- |
| Woking News Jan 26th | Surrey Newspaper Jan 27th |
1939 –  Aloys Fleischmann – Premiere of his Piano Quintet in Cork